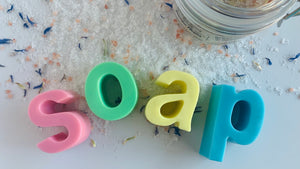 Welcome to A Thousand and One Fantasies
A wonderland for all the fantasies in natural and fun soaps, salts, balms, and more...Join us in creating 1001 fantasies!
Pure Personal Care
Freshly Handmade to Order
New Every Friday
This Week's Fresh Release
---
Our Story Started with...
...a Rose soap. Our signature Fantasy Rose soap grew out of the love for the nature. It has vivid rose shape, dreamy color, and irresistable aroma of rose essential oil. You can bask in the sweet scent and feel as fresh and loved as a rose! Each month, a new color will be released to celebrate that special time of the year, and you can always smell roses!
Shop Now
Check Out All Our Collections
---
What Our Customers Say
"The Graduation Handmade soap looks beautiful and comes in a very nice package, where all the soaps were individually wrapped. The soap was very soft on my skin, and had a very firm texture which makes it very durable. The soap made my hands feel very moisturized rather than the normal soap I use. I definitely recommend this product. It's very smooth on the skin, and a lovely graduation gift."
- L. Y. (CA)
"Last night (after) using your Precious Rose bath salts, I slept like a baby and feeling the benefit of the bath this morning! Thank you!"
- M. G. (CA)
Fantasy Blog
---
When you reach for a soap for cleansing, has it ever occurred to you that this ordinary routine could become a simple pleasure in your busy days if you try a different...
 🙂 Happy 🙂 😠 Mad 😠 😥 Blue 😥 😞 Or Sad 😞
Thanks for Stopping By
We hope you have found your fantasy to bring home today! Our store is updated regularly with new products, exciting events, and helpful information. Come visit us often. We would love to see you here!